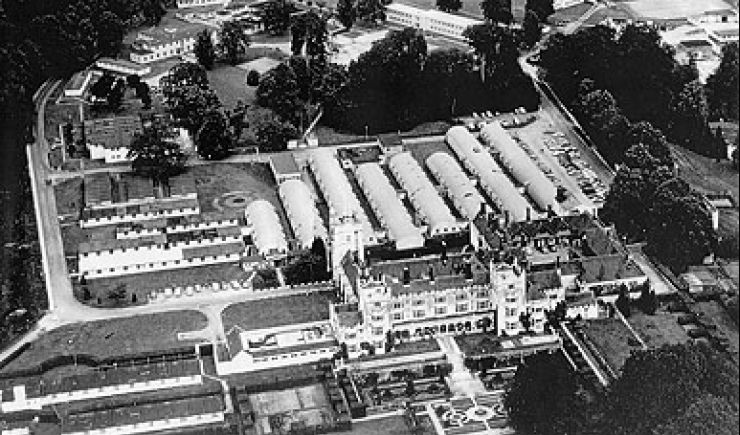 Brimming with history, Danesfield House was once home to the Intelligence Section of the RAF, known as RAF Medmenham. The unit specialized in photographic intelligence and was the 'eyes' to Bletchley Park's 'ears'.
Step back in time to RAF Medmenham in World War II and celebrate the 77th anniversary of the end of the War. You'll learn about the secrets of the house from 1941-1946 as RAF Medmenham, view pictures of the photographic interpretation unit from World War II and try to catch a glimpse of the elusive 'Grey Lady' ghost of the house!
Package Highlights:
• Enjoy a three-course dinner
• Overnight accommodation (based on two people sharing a Classic Room)
• Full English breakfast
• Full use of the spa facilities (at designated times)
• Please note that the Anniversary Lunch is not included in the package price. This is an additional £85pp and spaces are limited
• Tea and coffee throughout the day on Sunday
• Talks from leading authors of wartime stories, RAF personnel, war veterans, and many more very knowledgeable people!
• Tours of Danesfield House by Peter Faarup, Danesfield's own private historian
• Museum and exhibition of the photographic interpretation unit kindly donated by The Medmenham Association and Bletchley Park
• Purchase a copy (£5) of the last printed booklet 'Evidence in Camera' - a special edition publication produced by RAF Medmenham in 1945 to commemorate the end of the war (Limited copies available)
• Authors will be around the hotel during the day on Sunday for book sales and signings (please bring cash for book sales as authors will be selling their own books)
• From £299 per room, per night
Guest authors and speakers include:
1. Elinor Florence, author of the best-selling wartime novel 'Bird's Eye View', which tells the compelling story of a young woman working for Allied Intelligence as a photo interpreter here at historic Danesfield House, formerly RAF Medmenham.
2. Michael Smith, author of 'The Secrets of Station X': How the Bletchley Park codebreakers helped win the war-The astonishing story of how the British codebreakers of Bletchley Park cracked the Nazi Enigma cyphers.
3. Taylor Downing, author of 'Spies in the Sky' - The story of the daring reconnaissance pilots who took aerial photographs over Occupied Europe during the most dangerous days of the war and of interpreters who invented a competely new science to analyse those pictures!
4. Helen Fry, bestselling historian of a number of books on WW2 intelligence and spies, including The Walls Have Ears - a clandestine bugging operation that worked alongside Danesfield House in the war. She is a trustee of the Medmenham Collection & an ambassador for the National Centre for Military Intelligence.
5. Talk from volunteer, Bernie Knill at Hughenden Manor, where the raiding pilot's maps were drawn up
6. Talk from volunteers Mark Lubienski (Bletchley Park) and Colonel David E King OBE (RAF Medmenham) - Lecture ''From Room 40 to Bletchley Park.' Discover how brilliant people from all walks of life came together as a unique group of code-breakers
7. Talk from Karl Thomson, retired RAF Officer and specialist in photographic intelligence
8. Talk from Paul Stewart MBE, Chairman of the RAF Medmenham Association
9. Talk from Wg Cdr (ret'd) Neil Tomlin, Area Director, S.England & S.Wales - The RAF Benevolent Fund - Supporting the RAF family for 100 years
Terms & Conditions:
• Non-refundable and non-transferable, full pre-payment required at the time of booking
• Limited availability
• To book quote: 'VE2022'
• Please note that the Anniversary Lunch is not included in the package price. This is an additional £85pp and spaces are limited
For package reservations: reservations@danesfieldhouse.co.uk or call 01628 891010
---
Details
Date:
7th May 2022 - 8th May 2022
Location:
Henley Road , Marlow-on-Thames, Buckinghamshire, SL7 2EY
---