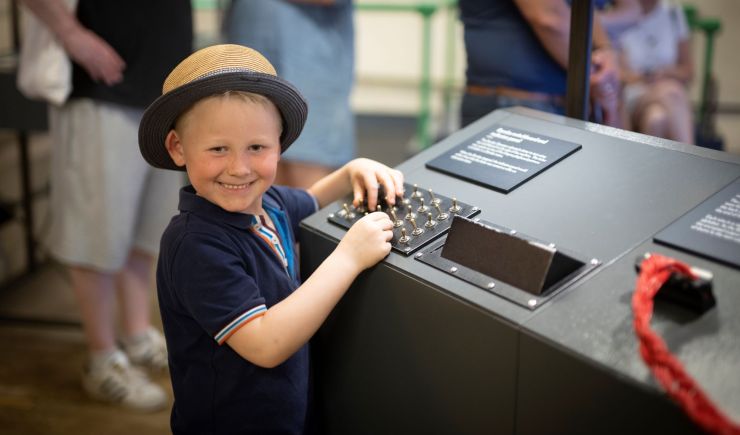 Come and discover more about the amazing people and amazing machines that helped with codebreaking at Bletchley Park.
Activities and tours included with admission
PUZZLES AND PASTIMES - ACTIVITIES FOR FAMILIES
Every Tuesday, Wednesday and Thursday between 2 and 23 August, plus Sunday 28 and Monday 29 August (Bank Holiday Weekend)
Did you know that many of the Bletchley Park Codebreakers enjoyed puzzles and games in their free time?
Find out if you could have been a codebreaker by completing puzzles, playing games, testing your skills and challenging your friends and family!
These sessions are suitable for families with children aged 5-14, accompanied by an adult.
AMAZING PEOPLE, AMAZING MACHINES - FAMILY GUIDED TOURS
Fridays in August (5, 12, 19, 26 August)
Could you have been a codebreaker, a Wren or maybe a dispatch rider? Would you have been able to keep your work secret even after the war?
Join us on a fun, family-friendly tour to find out about the amazing people and machines that helped break the Enigma cipher here at Bletchley Park during WW2.
In this fast-paced, interactive tour you will learn some surprising new facts, explore everyday life at Bletchley Park in 1941 and you might even take part in some top secret war work…
The 'Amazing People, Amazing Machines' tour is suitable for families with children aged 5-14. It lasts approximately 45 minutes and takes place outside.
Children must be accompanied by an adult throughout the tour.
Visit the Information desk on arrival for tour timings and to book your place.
---------------------------------------------
For more information about summer family fun at Bletchley Park visit https://bletchleypark.org.uk/event/summer-fun
Follow us on our social media channels to discover more this summer: Facebook /bletchleypark1; Instagram @bletchleyparkuk;  Twitter @bletchleypark #BletchleyPark
---
Details
Date:
23rd Jul 2022 - 4th Sep 2022
Time:
9:30am - 5:00pm
Children under 12 go free.
Location:
Bletchley Park Trust Ltd, The Mansion, Bletchley Park, Milton Keynes, MK3 6EB
Please note:
Tours and activities are included in admission
---
Book now
Pre-book online or buy on the day
Book Now