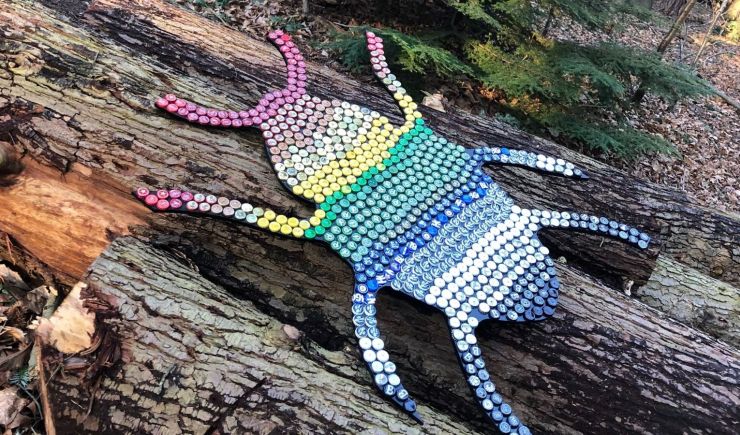 Discover giant bugs made of litter around Black Park! Come along with your family and friends to our FREE trail. Learn all about how to reduce, reuse, recycle and most importantly, why not to drop litter. Don't be a litterbug!
The trail will be running from Friday 17th March to Sunday 16th April in conjunction with the Keep Britain Tidy Great British Spring Clean 2023 campaign. The self-led trail will be around Black Park during usual car park opening hours, so you can turn up at any point when we're open, no need to pre book! There will be directional signs out on display, or you can refer to the map and see if you can find all 8 different bugs. You can start the trail from any point around the lake.
A special thanks to Black Park Shed for their help in cutting the bug templates. To find out more information about them as a charitable organisation please visit: https://www.blackparkshed.org.uk
WHAT CAN I SEE ON THE TRAIL?
There will be a series of artworks constructed from litter collected from the Country Parks, in the shape of giant bugs, from bottle top beetles to water bottle spiders! There are a few new additions this year too! Will you find them all? There will also be interesting facts and information about recycling, the environment and how you can make a difference accompanying each sculpture.
WHERE DO I GO?
There will be directional signs around the site within the trail dates, so simply park in the Black Park car park and look out for our Litter Bug Trail signs. The route is roughly a 1 mile loop round the lake. Alternatively you can follow the map out onsite or on our website.
https://countryparks.buckscc.gov.uk/litter-bugs-trail/
THE GREAT BRITISH SPRING CLEAN
The Great British Spring Clean 2023 campaign is run by Keep Britain Tidy and is asking the public to pledge to collect a bag of litter this Spring to help the environment. Click here to join in and together we can make a difference! #LitterHeroes
---
Details
Date:
17th Mar 2023 - 16th Apr 2023
Time:
8:00am - 6:00pm
FREE EVENT
Location:
Black Park Country Park, Black Park Road, Wexham, Buckinghamshire, SL3 6DS
---