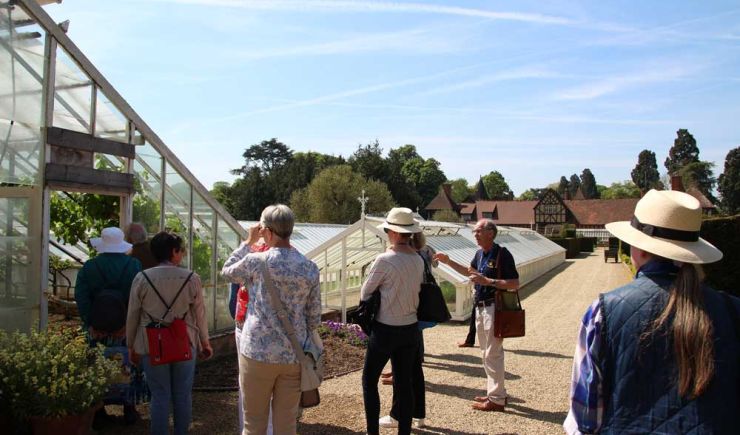 Whether a home gardener looking for inspiration, a garden historian searching out old traditions, or a professional hoping to learn new tricks, a visit to the private Rothschild walled garden at Eythrope will intrigue, inform and inspire.
The walled garden at Eythrope is a productive garden, supplying vegetables, fruit, herbs and cut flowers for the Rothschild family as well as Waddesdon's restaurants, hotel and artisan food market. A working garden on this scale is rare in the 21st century and Eythrope is legendary in the garden world for the excellence of the gardening and as a haven for traditional techniques that might otherwise be lost.
Discover the four-acre walled garden, glasshouses and orchard at Eythrope. Visits to this private garden are by guided tour only. Tours lasting approximately 90 minutes, take place on Wednesdays from May to October and a light meal with savoury and sweet elements inspired by the seasonal produce from Eythrope and created by the Manor Restaurant's in-house chefs.
While at Eythrope, there will be an opportunity to purchase locally-pressed apple juice from the Eythrope orchard, and copies of Paradise and Plenty, Lady Mary Keen's companion guide to the garden, lavishly illustrated with photographs by Tom Hatton.
---
Details
Date:
3rd May 2022 - 19th Oct 2022
Time:
10:00am - 3:00pm
Morning and afternoon sessions available (see website for further details)
Location:
https://waddesdon.org.uk/whats-on/eythrope-walled-garden-tour/, Waddesdon Manor , Waddesdon , Buckinghamshire, HP18 0JH
---
Book now
Book tickets via our website (booking essential)
Book Now