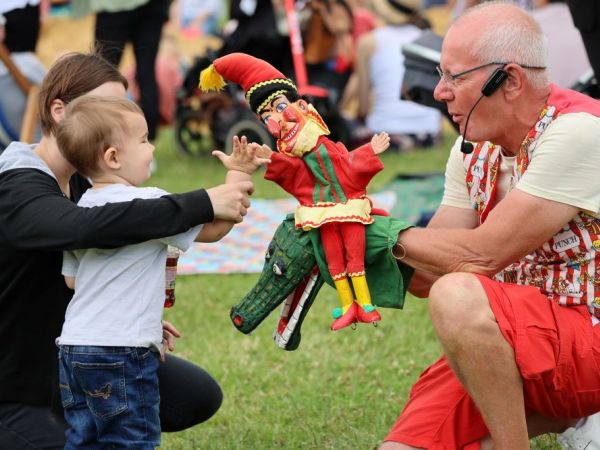 Buckinghamshire's much-loved family arts and literature festival, WhizzFizzFest, is back for 2023 – but this year, things look a little different!
Joining up with some of their friends, WhizzFizzFest will be going on tour across the county for the first time, spanning not one, not two but three weekends in July! Visitors will be able to enjoy a whirlwind of creative activities and unforgettable experiences, all connected with an overarching theme of friendship.
Mark your calendars for these spectacular free events:
- Sunday 2 July – WhizzFizzFest at Aylesbury on Sea with Aylesbury Town Council – WhizzFizzFest lands in Aylesbury's Vale Park for the first time, bringing a vibrant celebration of children's creativity alongside plenty of beach-based fun at Aylesbury on Sea.

- Saturday 8 July – WhizzFizzFest at Desborough Carnival with High Wycombe BIDCo – Join a celebration of music and culture from 11am-4pm as Desborough Road is transformed into a hub of live music, great food and tonnes of fun for the whole family. There'll be free creative workshops, circus performances, street entertainment and more!

- Saturday 15 July – WhizzFizzFest at Hats Off Chesham with Chesham Connect – Back for a third year, Hats Off Chesham returns to celebrate Chesham's High Street, with added creative fun for all the family. Music, magic shows, crafting, climbing walls, giant bubbles and much, much more will all be available – just don't forget your hat!
And that's not all! WhizzFizzFest is also hosting 'By the Light of the Moon' an enchanting interactive performance with puppetry and music produced by Full House Theatre, which will visit some of the county's libraries. And Aylesbury's Discover Bucks Museum is getting in on the action too.
There's no need to book tickets for the main events – just turn up and enjoy. Booking is required for By the Light of the Moon' and Discover Bucks events, and there is a small fee for both.
For more information about WhizzFizzFest and to book tickets, visit the website.
Photo credit: Laura McG Photography