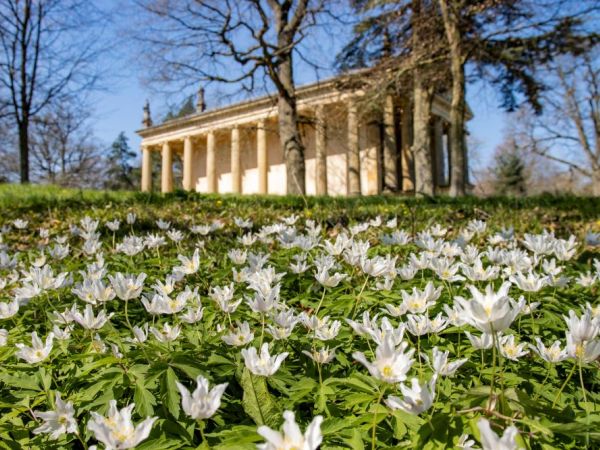 As we emerge from the hibernation of Winter, the hopeful sight of a carpet of snowdrops, a cheery sea of bright yellow daffodils, or the nodding chequered head of a snakeshead fritillary can make someone's day.
Snowdrops
Stowe is of course THE place for snowdrops – so widespread and so popular are they, that they have their own season. And it's Stowedrops time right now with a special snowdrop walk to follow. (Over by end of March). Canons Ashby has a carpet of snowdrops as you walk up to the house as well as along the paths and garden walkways.
Daffodils
Waddesdon's daffodils are so plentiful that they have an entire valley named after them. Swerving the shuttle bus and taking the 20min walk up to the manor will take visitors on a sunshine-yellow route through Daffodil Valley. Ascott House and Gardens reopens on 17th March and their 1.5million (yes you read that right) daffodils lining the driveway should be in full and glorious bloom.
Primroses
Hughenden is the place for delicate, lemon-coloured primroses. They were (former Hughenden resident) Benjamin Disraeli's favourite flower and they dot the banks and borders of the garden. Feb - March.
Cherry Blossom
Greys Court's cherry garden is open for blossom season again this year with more cherry trees than ever before. Last year, this part of the garden was closed for restoration and tree planting. The historic walls have been repaired, the path re-laid so that it is more accessible and the planting minimised to showcase the frothy blossom of the cherry avenue. Stowe has a brand-new blossom map highlighting all the best places to get a fix of blossom 'hanami'. The largest and most magnificent of the cherry trees is next to the statue of Queen Caroline. March.

Snakeshead Fritillaries
This elegant plant has a curious pink chequerboard effect on its bulb-shaped flowers, which are balanced on the finest thin stem. You can see snakeshead fritillaries at Stowe in March/April, dotted around Gurnet's walk and they can also be seen at Greys Court in the walled garden. April.
Tulips
At Waddesdon this spring, more than 50,000 red and yellow tulips will bloom on the parterre, with more in the Aviary Garden in tones of vibrant pink and purple. Appropriately enough, the Dutch garden at Ascott is another place to see tulips in April/May. There are 14 varieties planted in the circular beds leading to the sculptural Eros fountain at the head of the garden. Mid April - May.

Bluebells
Hughenden's Woodcock Walk is a short walk, great for families, and takes in some beautiful Chiltern woodland filled with bluebells. End of April / early May.
Images by Hugh Mothersole