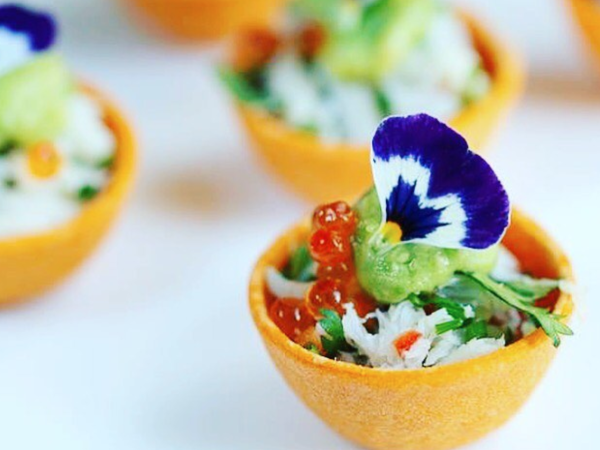 Whether you have kids or not, it's always nice to spend some time doing grown up things. Here's a little inspiration for some time out this season.
Throughout August you can settle down in a deckchair on the lawn and listen to some wonderful vintage music from the 1940s, including jazz and swing, at the iconic Bletchley Park, home to the WW2 codebreakers. Performers include Johnny Victory, Marina Mae and Lily Lovejoy and there will be a BBQ Food Truck on site for delicous food and drink. If you are there Sunday 14th, 21st and 28th August in the afternoon, you will also be lucky enough to see a flypast from a Spitfire or Lancaster. Seeing these iconic aircraft fly over Bletchley is bound to give you goosebumps!
Experience a nine course tasting menu in a vintage Hot Air Balloon tethered in a spectacular garden setting this August! Feast on Cloud 9, the new immersive dining concept from Feast, is this summer's most magical pop-up.Ten bespoke hot air balloons, with vintage-style wicker dining baskets (each seating 4-6 guests) will be set amongst the apple trees and wildflowers in the ancient Orchard of the beautiful two-acre Walled Gardens on the private Wormsley Estate (near Stokenchurch).This incredible experience will include surprise entertainment as guests explore the glorious gardens, followed by a nine-course creative tasting menu served in the wicker dining baskets beneath the balloons. A truly unqiue experience.
Join Backwoods Experiences at Daws Hill Vineyard in Radnage on Sunday 21st August or Sunday 11th September to learn how to make your very own willow obelisk. This natural and sustainable willow obelisk plant support is great for climbing plants, such as sweet peas and clematis. Indulge in some wine tasting whilst you're there with award-winning fizz from the vineyard.
Nip over the border to Thame in Oxfordshire to meet 20 exhibitors taking part in this creative endevour on 20th August, including for the first time the mixed media artist Sarah Dridi. Sarah uses digital collage, painting and hand embroidery to create beautiful artwork. Returning to Thame is Matt Cobb who finds extraordinary objects and creates lights and sculptures. You're bound to find something extra special and beautiful for yourself or a unique present for someone else.
Come along for advice from spiritual and holistic experts at this Deer Spirit event on 20th August. Listen to a selection of talks on spiritual, holistic, self-help and healthy living subjects. And shop the marketplace for crystals, jewellery, arts and crafts, magnetic products and other spiritual, holistic and healthy living products.
Turn up the heat at Chilli Fest taking place in Waddesdon's beautiful Pleasure Grounds from 2nd to 4th September. Browse many stalls of handpicked exhibitors, all passionate about chilli. Over the three day festival enjoy a real party atmosphere with live music, family fun and salsa dancing as well as the opportunity to walk around the gardens.
The walled garden at Eythrope is a productive garden, supplying vegetables, fruit, herbs and cut flowers for the Rothschild family as well as Waddesdon's restaurants, hotel and artisan food market. A working garden on this scale is rare in the 21st century and Eythrope is legendary in the garden world for the excellence of the gardening and as a haven for traditional techniques that might otherwise be lost. Visits to this private garden are by guided tour only and last approximately 90 minutes, taking place on Wednesdays from May to October. The tour includes a light meal with savoury and sweet elements inspired by the seasonal produce from Eythrope and created by the Manor Restaurant's in-house chefs.
On September 11th you can come along to The Grange at the Hearing Dogs for Deaf People Centre in Saunderton for a fun day out for adults and children alike. With dog shows, traditional entertainment, rides, food & drink, hearing dog demos and the Bisham Concert Band, it's a great way to round off the summer.
This luxury hotel near Marlow has a new executive chef, Massimo Principe, a charming charismatic Italian who has big plans for the kitchen and his team. He will be changing all the restaurant, private dining and bar menus and sourcing kitchen produce from more local farmers, growers and butchers. He's also reinventing the kitchen garden to grow their own produce for use in the bar, restaurant and spa and guests will be able to visit this garden during their stay. Massimo is planning a magnificient wine dinner on September 16th which will include a six course dinner with paired wines. More details to follow.
At just 75 minutes, this engaging and fast-paced adaptation of Macbeth is the perfect introduction to Shakespeare for a modern audience.Unforeseen circumstances leave a Dickensian theatre company stripped down to just three actors. Undeterred, the troupe valiantly take on the multitude of roles. Performed in the Norman Bragg Studio 18th to 22nd October. Or book tickets for Spike, the comedy by Ian Hislop and Nick Newman. Olivier Award-winning actor John Dagleish will reprise his critically-acclaimed role as 'Spike Milligan' this autumn from Tue 25 – Sat 29 Oct.