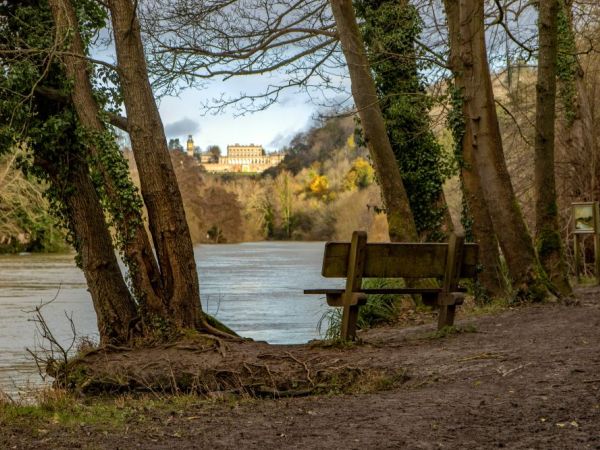 There's loads happening at our National Trust properties this autumn so why not enjoy a visit and a whole host of activities?

The landscaped gardens of Stowe are aglow in autumn as trees across the garden and park burst into colour. Look out for the larch, a deciduous conifer turning bright orange in October, spindle trees which have red leaves and pink and orange seeds and liquidamber. The liquidambers kaleidoscope through a deep crimson red, amber and golden yellow. You can find them in the Grecian Valley and Elysian Fields. You get a double hit at Stowe as the autumn colour is reflected in the lakes, creating a fiery glow all around.
Gothic Temple Open Days
16/17 Sep and 28/29 Oct - 10.30am-4.30pm
A rare chance to see inside the Gothic Temple, usually a holiday cottage for the Landmark Trust. With scenic views from the top floor, take a look inside Gothic Temple which was modelled on medieval buildings.
Heritage Open Day
Sunday 17 September - 10am-5pm
Enjoy a rare chance to see inside and explore the breadth of some of Stowe's most iconic temples. You'll be able to explore the 250 acres of landscape gardens, visit the Gothic Temple, take in the tranquillity of the church, and take a taster tour of Stowe House. You'll also get to meet an archaeologist and a conservator at the New Inn and handle some of the collection. Free entry to all.
(Timings and booking vary for the church, house and temple.)
Monthly Dog Walk
Third Wednesday of every month – 10.30am-12.30pm
Meet your volunteer dog walk guide at the garden entrance to enjoy socialisation with other dogs, meeting other dog owners, and exploring different areas of the garden each visit. Tour included in standard entry price.
British Sign Language Tours
23 Sep – 11am and 2pm
Join our knowledgeable volunteers and the team from Heritage interpreters for a fascinating BSL interpreted tour of Stowe Gardens. Meet at the garden entrance 5 mins before the tour start time. Tour included in standard entry price.
Gaia at Stowe House
15-26 October
Step into the magnificent Marble Saloon of Stowe House and take in the spectacle of the universe. Here is displayed the three-dimensional, six-metre floating sculpture of Gaia by internationally acclaimed artist, Luke Jerram. Visitors will be able to enjoy timed entry to the eighteenth-century historic house, allowing plenty of space to explore this multi-sensory experience.
Adult £5 Child £3 Booking required.
Men in Sheds
22 Oct - 10am-5pm
Pop-up stall featuring handmade, locally crafted gifts showcased at the New Inn courtyard. Free for all to browse.
Halloween Half Term at Stowe
21-29 Oct – 10am-5pm
Experience something spooky this October Half Term at Stowe. Do you dare enter the hidden depths of Lamport Garden?
Harvest and Apple Weekend
21/22 October – 10am-5pm
Join the Garden and Parks team for harvest and apple themed activities in and around the New Inn.
Book Fair
27-29 Oct – 10am-5pm
Calling all booklovers! Enjoy the expanded displays of donated books including fiction, non-fiction, vintage and collectable books, as well as storytelling sessions in the Parlour Rooms.

The hot and cold borders in the Forecourt in front of the hotel at Cliveden and also the borders in the Long Garden look wonderful well into September. The specimen trees in the Water Garden flame into life and then the colour transitions to the woodlands on their plateau high above the Thames. The avenues and paths become framed with bright oranges, reds and yellows with far-reaching views over the Thames and beyond.
Heritage Open Days
12-14 September
Free entry to everyone. Enjoy a leisurely stroll around Cliveden's beautiful gardens, riverside and woodlands and take in the stunning views.
Head to the Information Centre for house visits (11am -12:30pm) and garden tours (2pm), available daily.

Autumn Trail
18 September - 30 November
Be an autumn explorer and grab a free, self-led trail map. Become a leaf detective, look out for animals and birds, and help gather the leaves for compost. There are also some handy tips to give nature a helping hand at home this season.

Half Term
Scarecrow Festival
21 - 29 October
Cliveden's Scarecrow festival is returning for its second year. Pick up a free trail sheet and enjoy the display of imaginative scarecrows created by local community groups, based on the theme 'nature in autumn'.
Scarecrow Crafts
Children can get involved in making their own miniature scarecrow in the Doll's House at the Storybook Play Den.
Suggested donation £1 - £2.

The beech woods of the Chilterns turn bronze in autumn and Hughenden is a cherished place for a woodland walk at this time of year. In the Victorian era, Prime Minister Benjamin Disraeli was responsible for shaping the Hughenden we see today – the red-brick manor, formal and walled gardens and orchards. Disraeli loved trees, planting many specimen examples in the garden and parkland. Autumn is a great time to appreciate them.
Judaism and Disraeli talks
4 -17 Sept. Talk times advertised on the day.
As part of the annual European Days of Jewish Culture festival, volunteers will be delivering talks about Benjamin Disraeli's faith.
Ranger Walk – wild food
5 & 14 Sept 10am-12noon
Learn more about nature's bounty and Hughenden in autumn in a ranger-led walk around the estate.
£5 per person
Heritage Open Days
9 & 13 September
Free entry to everyone to explore the house, garden, play area and woodland.
Watercolour workshops
Beginners 4 Oct 10.15am-3pm, Intermediate 1 Nov 10.15am-3pm
Take a short walk around the grounds with their talented volunteer, Paul, for inspiration. Then expand your knowledge of techniques and create an artwork featuring Hughenden's autumn garden to take home.
£35
Half Term
Enchanting Herbs and Potions trail
21-29 Oct 10am-5pm
Find out about the magical properties of herbs in the walled garden at half term. Storytelling, folklore, potion making and more interactive fun.

Wand making – woodworking workshop
23 & 25 Oct
Join in a magical journey into the world of wand-making in their enchanting woodworking workshop. Craft your very own personalised wand and decorate with unique decorations that resonate with your inner magic.
£10 per person (for those aged 12+)
Salt Dough craft workshop
27 & 28 Oct 1pm-3pm
Capture a piece of autumn by making your own leaf from salt dough. Go on a woodland hunt to find a leaf perfect for a print, or come and make your own with our leaf cutters and modelling tools. Paint it a beautiful autumnal colour and scent it with spice.
Mini Beast Hunt
24-26 Oct
Explore the wonders of the woods and discover the hidden world of tiny creatures
£5 per child

Claydon is a wonderful house to explore with beautiful wood carvings, ornate plasterwork ceilings and an intriguing story of 400 years of history in the Verney family. The West Terrace and South Lawn are perfect spots for a picnic with far-reaching views on warm early autumn days.
Heritage Open Days
17 September 10-30am-3.30pm
Explore this hidden gem for free as part of Heritage Open Days.
British Sign Language Tour of Claydon
24 September 3-4pm
Join their knowledgeable volunteers and the team from Heritage interpreters for a fascinating BSL interpreted tour of Claydon.
£10 per person, pre-booking essential.

Waddesdon's summer bedding plants last well into September, offering bright pops of colour on the Parterre and at the Aviary. Tropical planting in Tropical Mound and at Red Lion Steps will also keep colour and greenery in the gardens and be sure to visit the proud 3D pheasant at the Aviary. As October approaches, collect conkers from the magnificent horse chestnut trees and see the grounds transform as the trees blaze with magnificent hues of orange, gold and red.
Chilli Fest
1-3 Sept 10am-5pm
Annual Chilli Festival with more than 70 artisan producers and independent traders. Live music, family fun and children's activities.
£17.20 adult, £8.60 child (£4 National Trust adult, £2 National Trust child)
Catherine Goodman – Do you remember me…
Until 29 Oct, Wed-Sun 11am-5pm
New works by Catherine Goodman displayed in the Coach House Gallery, inspired by the island of Corfu.
Alice's Wonderlands
Until 29 Oct
Exhibition showing how Alice put her own stamp on Waddesdon both before and after she inherited the house from her brother Ferdinand. Don't miss the free talk with the exhibition's curators Dr Mia Jackson and Catherine Taylor taking place 11am, Thursday 27 September.
Meet the Aviary Keeper
Until 29 Oct, Wed-Fri 2pm
Free 25 min talk about the Aviary and its work. Join the birds up close at feeding time and meet the famous Rothschild Mynahs.
Garden Walks
Until 29 Oct, Wed-Sun 11.30am and 2.30pm
Guided walk around the gardens. Learn about the history of Waddesdon and Rothschild family and the seasonal highlights in the garden.
Object handling
Until 29 Oct, Wed-Sun 11-11.30am
Get up close with different items from the collection. Hear about their history and how the house was used and staff. You can also hear about Miss Alice's housekeeping rules, which govern how the collection is cared for today.
Haunted half term
21-29 Oct 10am-5pm
Free entry to children throughout half term. They can take part in a fact-filled Trick or Treat Skeleton Trail and collect a spooky prize. Join Zoolab for their Creepy Critters show on 21 & 22 Oct, or watch some classic family films in the Powerhouse. Face painters in residence on 28/29 Oct.

For the first time, Ascott is opening the doors to the garden for autumn. The garden is home to many specimen trees which are at their most beautiful as the seasons change. As the colour from the summer bedding fades, it is replaced by the gold, bronze and burnt reds of the trees, shrubs and hedging of Ascott's parkland.
Tremendous Trees Trail
19 Sept – 20 Oct
Pick up a trail card and become an autumn explorer in the garden to find Ascott's most iconic trees.

Spooky Spider Hunt
21 – 29 Oct
Follow the pumpkin pathway and spot as many spiders as you can. Can you find the giant spider hidden in the garden?
Photo credits: National Trust - Stowe at Autumn by Rupert Truman and Cliveden Riverside by Hugh Mothersole