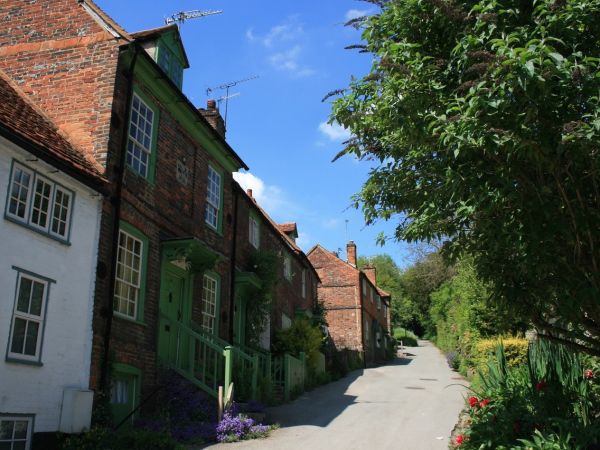 This little village is owned and maintained by The National Trust and its one-street medieval village is a unique slice of Buckinghamshire.
About
The village of West Wycombe was once an important coaching stop between London and Oxford. In 1767 there were 17 public houses listed in the village. The village, with its well-preserved facings of original 16th – 18th century buildings, is partly owned and maintained by the National Trust.It has a range of traditional shops with several places where you can quench your thirst and enjoy a snack or a meal.
History
On the summit of West Wycombe Hill is the famous landmark, St Lawrence Church. It was built in the 14th century and then dramatically changed in 1763. Sir Francis Dashwood followed the example of many patrons of his time and restored his medieval church. After a grand tour of Europe and Ottoman empire, Sir Francis had some grand ideas. His most famous idea was the Golden Ball, a copy from the customs house in Venice. The great gilded ball was designed to hold drinking and gambling parties. Next to the Church is the Dashwood Mausoleum. Built in 1763 it is said to have been the largest flint monument in Britain.
Three hundred feet below St Lawrence is, the Hellfire Caves. A series of man-made tunnels and caverns dating back to the 1750s. Explore a quarter of a mile of tunnels, through the great Banqueting Hall to the River Styx.
West Wycombe Park & House has been home of the Dashwood family for over 300 years. Set in 45 acres of landscaped parkland with temples and follies, the house as we see it today is the 18th-century creation of Sir Francis Dashwood.
Getting Here
West Wycombe is located on the A40 3 miles outside of High Wycombe. There is ample parking in around West Wycombe including large car park on Chorley Road and at the top of West Wycombe Hill.
Buses do run hourly through the village please visit Travelline for more information.
Markets, Festivals & Events
Every year the West Wycombe Events Team hold a Summer Fayre in July and Festive Fayre in December.
Hellfire Caves hold events throughout the year including their famous Fright Nights and Half Term Fun over Halloween.
WW Markets is hold Craft Markets 3 times a year in the 3 venues in village.
More events can be found on www.westwycombevillage.co.uk/events
Filming Locations
West Wycombe Village has been used for a variety of films over the years. From 'The Importance of Being Ernest' at West Wycombe Park, 'Horrible Histories' at Hellfire Caves to 'Bridget Jones' Baby' at St Lawrence Church.
Walks
A 2.5 mile woodland walk takes you from the village to the Dashwood Mausoleum and is part of a series of socially distanced walks that avoid the most crowded places and narrow pathways where possible. Also near West Wycombe is Downley Common and Hunt's Hill walk which is a 2.8 mile gently undulating walk through a variety of habitats.
For more information on visiting West Wycombe Village visit www.westwycombevillage.co.uk