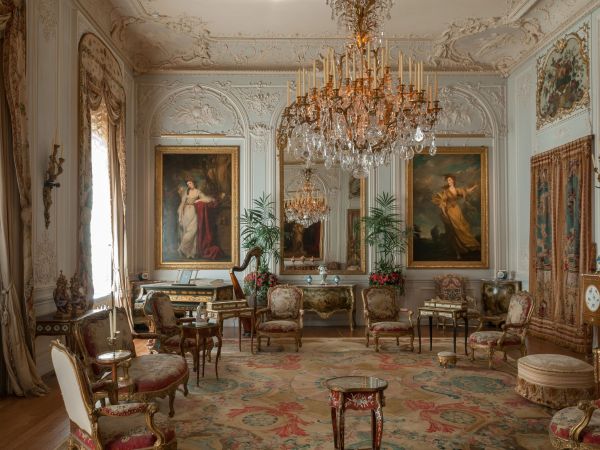 Waddesdon Manor can now plan and carry out a reduction of carbon emissions throughout the business thanks to support from Visit Buckinghamshire and Buckinghamshire Business First.
Waddesdon Manor, the iconic National Trust property managed by the Rothschild Foundation, receives almost half a million visitors every year. As an organisation, they are committed to working in a sustainable way and have already invested in cutting down emissions through initiatives including installing LED lighting, recycling, investing in electric vehicles and implementing a "green approach" where possible.
As might be expected with a historic building, it is not always straightforward to apply sustainability measures. For example, the rooms where collections are housed need to be maintained at a consistent temperature and humidity year-round to protect them. Naturally, a building the age of the Manor will have some complexities when it comes to integrating new technologies.
When Waddesdon Manor participated in the Visit Buckinghamshire: Boost programme, their purpose was to clearly understand the current green credentials of their organisation in order for them to build a plan for future improvements and lower their carbon emissions.
The Visit Buckinghamshire: Boost programme was designed to accelerate the recovery of tourism, hospitality and leisure businesses and the wider visitor economy in Buckinghamshire. The support prepared businesses for future trends and helped them improve their performance across five different elements: green credentials, workforce, business growth, digital skills, and accessibility.
And so, with sustainability in mind, Waddesdon Manor received support through the Boost Green Credentials element of the programme, allowing them to tap into the expertise of the Climate Essentials organisation, who carried out a benchmarking audit across all areas of the business. This was achieved with the help of a carbon calculator tool.
Chris Leach, Head of Sustainability and Conservation at Waddesdon, said: "It was really interesting to see that some of the simple changes we could undertake would instantly make a big difference. An example of which is switching to a 100% green energy tariff.
"The support has been amazing. I can't thank the team enough; they were so helpful and always at the end of the phone if we had any questions."
Chris plans to use the results of the audit to inform the development of Waddesdon Manor's sustainability plans, potentially undertaking a more detailed carbon audit tailored to the wider organisation that will further help them identify where to focus their efforts and what capital funding might be required.
The next step for Waddesdon is to look at the environmental impact of other elements of the running of the business, such as visitor transport methods, catering impacts, and homeworking for staff. They also plan to survey staff to see what methods of transport they use to travel to work, in order to identify where additional improvements could be made. This could include looking at alternative ways for staff and visitors to get to Waddesdon.
Mike King, Business Adviser on Visit Buckinghamshire: Boost, said: "It is wonderful to hear that a historic building such as Waddesdon has been able to use the Climate Essentials calculator tool to make positive changes to reduce its carbon footprint. These changes will ensure that the building continues to be a thriving visitor attraction and embody its sustainable values."
Visit Buckinghamshire: Boost was delivered in partnership by Visit Buckinghamshire, Buckinghamshire Business First and Buckinghamshire Council, and was funded by the UK Government through the UK Community Renewal Fund.