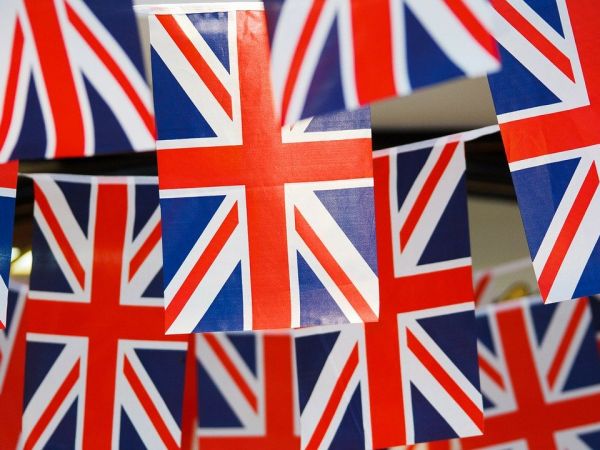 Friday 8th May marks 75 years since the Germans surrendered to the Allied Forces, finally drawing to a close the devastating Second World War. The announcement was actually broadcast to the nation late on May 7th 1945 when the BBC interrupted its scheduled broadcast to inform the British people that the next day would be Victory in Europe Day and a public holiday.
VE Day saw celebrations across the country (and the whole of Europe) with a speech by Winston Churchill and the Royal Family waving to cheering crowds from the balcony of Buckingham Palace. Very few people are alive today who were witness to those events but records deposited at the Centre for Buckinghamshire studies show that in Aylesbury there was a procession of dignitaries through the Market Square to an open-air service at the war memorial. The place was crammed with people and the event was filmed by a crew from Pinewood Studios, at that time managed by the Ministry of Justice. On Farnham Common, there was a funfair, sports races and a victory dance in the evening. In Winslow, everyone was dancing in the streets, the pubs were open all day and there was a real carnival atmosphere.
Unfortunately, due to the Coronavirus, plans for mass celebrations and street parties have had to be cancelled for this year. But you can still join in at home and salute those who did so much for our country. It's also the perfect opportunity to celebrate the amazing community spirit which the pandemic has reignited across the county (and country).
Join the Nations Toast to the Heroes of WW2. Have a glass of whatever you fancy with the toast 'To those you gave so much, we thank you'.
Check out the government's official VE webpage which gives you loads of inspiring ideas, 1940s recipes, activities and a Spotify playlist to give your celebration an authentic atmosphere.
Our very own Bletchley Park has a special VE Day celebration pack which you can download from their website, which includes instructions on how to make bunting to festoon your own home and street. There's even a recording of Winston Churchill's VE Day speech.
Bucks Council has a dedicated VE Day page with downloadable resources, including posters and colouring-in sheets for the kids. Follow them on social media @BucksCouncil and @CenBucksStudies.
English Heritage also has a party pack with loads of family-friendly ideas, including lyrics to popular 1940s songs so you can sing along to the playlist on the government's webpage.
Just Baguettes, the popular sandwich shop in Aylesbury, will deliver a special VE Day picnic basket to your door. You can add balloons, bunting and cards etc for a real party atmosphere. The Chiltern Brewery are celebrating with their Battle of Britain ale and the Tickerty Brew café in Haddenham are also making picnic bags, so you don't have to.
Did you know that some of Buckinghamshire's top attractions and accommodations played a vital role in both World Wars and The Royal Air Force?
Bletchley Park was once the top-secret home of WW2 code breakers, where nearly 10,000 people worked. Codebreaking at Bletchley first took place in September 1938 and it was the work done here that was essential to allied victory in World War Two.
After failing a medical assessment, Waldorf Astor, was unable to join the army, so instead, he decided to offer part of Cliveden Estate as a hospital for the British Army. They turned down the request but the Canadian Red Cross accepted instead. A hospital was built and it treated injured allied troops during the fighting of the First World War. The hospital was now where you can find the covered tennis court, racquets court and bowling alley of Cliveden House. Over 24,000 troops were treated at the hospital and it is said that only a relatively small number died. Those who died were buried in 'The War Memorial Garden'.
Although Danesfield House Hotel was not used in the First World War, it played a very important part in the second. In 1941, Danesfield was requisitioned as a base to develop the intelligence section of the Royal Air Force. The property remained in the hands of the RAF until 1977.
The Trenchard Museum displays and preserves items that relate to the history of Royal Air Force Halton. It contains a variety of artefacts including complete aircrafts, cockpits, aero engines, simulators, as well as memorabilia which illustrate life, training and notable events during 100 years of the Royal Air Force.
Did you know that most of the aeroplane parts for the First World War were made by the furniture factories of High Wycombe? They were given over to aircraft manufacture during WW1, however, the factory bosses didn't like this and proposed a whole new factory dedicated to making aeroplanes, instead of every factory making some parts. Before any aircraft could be made, the war ended and the factory was left derelict. However, this still meant Wycombe's furniture factories were the main manufacturers for aeroplane parts during World War One.
William Bartlett & Son Ltd in Grafton Street made parts for the Handley-Page bomber. E. Gomme Ltd made wings for the D.H.9, and many women were employed in the aircraft factories as the men had gone to fight abroad. Find out more about Buckinghamshire's role during WW1 here
Latimer House became the centre of highly top-secret activities run by MI5 and MI6 during World War Two. The activities were under the obscure name Combined Services Detailed Interrogation Unit (CSDIC). It masked as a supply depot as No.1 Distribution Centre and no one locally knew its true activities. British Intelligence realised that the most important assets in wartime are the prisoners who hold a wealth of information, however, interrogations were not necessarily productive. So they decided to secretly bug the conversations of the prisoners in their cells. From May 1942, Latimer House became crucial as the unit's headquarters. There were thousands of German prisoners, including Hitler's Generals, that would pass through Latimer House between 1942 and 1945. Latimer House is now a hotel, but if you would like to know more visit the Amersham Museum's website.
Roald Dahl, who lived and wrote in Great Missenden for over 35 years, was previously an RAF pilot. He became an RAF pilot at the age of just 23 where he fought in the Second World War. His love of flying is shown through several of his stories and books but little do people realise it's became of his previous RAF experience. Visit the Roald Dahl Museum's website to find out more his life as an RAF pilot.
Richard Morgan-Grenville (grandson of the 3rd Duke of Buckingham) ran the Stowe estate from 1908 but was killed at the front just before Christmas 1914. His clergyman brother inherited the estate but was unable to cope with its massive debts, so sold it all in 1921. It became a school in 1923 and still runs to this day amidst its beautiful National Trust gardens.
Hughenden Manor was home to a secret map-making operation in the Second World War, so secret that it only was discovered 60 years later! Codenamed 'Hillside,' Hughenden's role was vital in supporting the pilots of nearby Bomber Command, so much so that it was on Hitler's list of top targets.
The Nissen Hut at Chiltern Open Air Museum houses a WW2 RAF briefing room, where areophane crews would go for their meetings and be given flight instructions. Discover about the history of Nissen Huts, who invented them, why they were built and what they were used for.