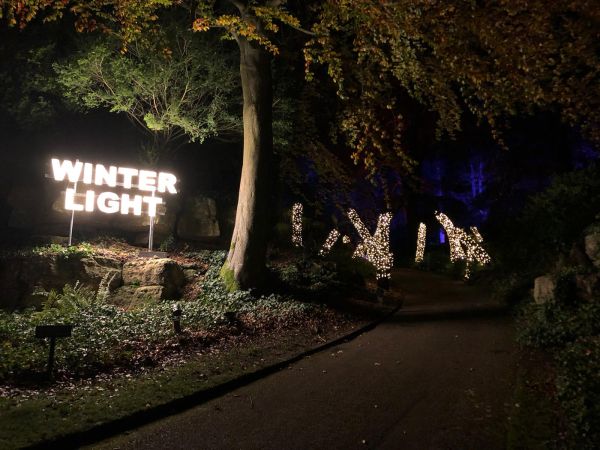 With Christmas over and a new year beginning, there's still fun to be had in Bucks this January.
Waddesdon's Winter Light
With the dark short days, January is still a great time to catch Waddesdon Manor's must-see illuminations, on until 23rd. Follow the Winter Light trail and see the Pleasure Grounds transformed with dramatic colour and playful installations. Stroll under the stars beneath illuminated tree canopies, look out for the rose garden glowing with flowers and walk through a tunnel of light loops.See the spectacle of the Manor's façade illuminated with dancing lights set to music. For the first time ever, watch the Parterre brought to life by a dazzling light show, highlighting the geometric shapes of the garden beds. An encounter Illuminated River, a display of light works by artist, Leo Villareal who has been lighting up London's bridges in a project supported by the Rothschild Foundation.
Eythrope's Spectacular Snowdrops
On the 13th, 14th, 20th and 21st January, you can visit the parkland at Eythrope to admire the blanket of spectacular snowdrops that will cover the gardens. Your £50 ticket also includes an indulgent afternoon tea at the Manor Restaurant at Waddesdon Manor and entry to their Winter Light displays.
New Shows at Aylesbury Waterside Theatre
This wonderful comfortable space is a great place to enjoy live performance and music. There's a packed programme of events for 2022 and something for everyone. 'Fantastically Great Women who Changed the World' is a brand new pop musical, celebrating the lives of some of history's greatest women, such as Emmeline Pankhurst, Rosa Parks and Marie Curie. Or how about seeing the Moscow City Ballet perform 'Swan Lake' or 'The Nutcracker' for a cultural treat? If comedy is your thing, a new play following a group of 6 year olds into adulthood called 'Groan Ups' will certainly entertain. And The ELO Encounter celebrates the music of ELO in their Blue Sky Tour in the theatre's Second Space.
Chinese New Year at Danesfield House Hotel
To celebrate the Chinese Year of the Tiger, Danesfield House is co-hosting an exclusive black tie dinner on 31st January, including a cocktail reception, live entertainment and special Asian influenced 3 course menu and after party. This gorgeous event is in aid of the charity 'Save Wild Tigers' and more information and tickets can be purchased by emailing simon@savewildtigers.org. It promises to be a very special evening for a very special cause.
Discover Silverstone Interactive Museum
If the drama of the Grand Prix last month in Abu Dhabi piqued your interest in F1, why not head to Silverstone Interactive Museum for a hands-on experience that both petrol-heads and everyone else in the family can enjoy? Celebrating the past, present and future of Silverstone and British motor racing, there are a variety of activities to try – from operating a wind tunnel, taking part in a pit stop and climbing into a replica Grand Prix car. In addition to the hands-on fun, the museum features some of the most iconic cars and bikes that have played a part in the 70-year history of Silverstone including Mansell's iconic "Red 5", an E.R.A from the first ever Grand Prix and Barry Sheene's 1979 Suzuki motorbike. A thrilling immersive film show – the ultimate lap of Silverstone – brings together some of the circuit's most famous racing moments and is the perfect way to round off each visit.