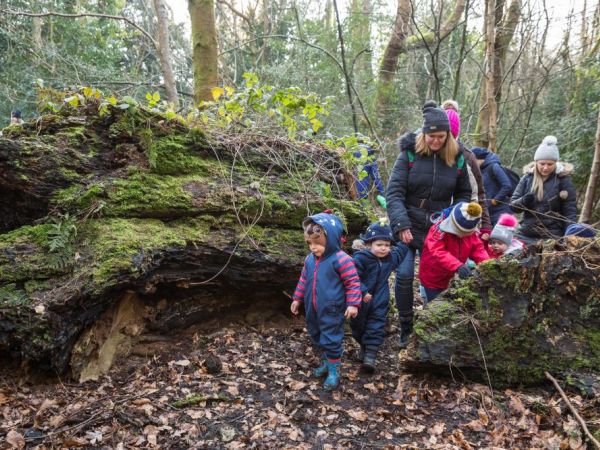 Here are some ideas for where to head in Bucks and the Oxfordshire borders for an invigorating walk and a hit of vitamin D.
At Hughenden, the Woodcock Wood walk is a short 1.2m stroll through woodland perfect for den building. There's lots of holly and yew, so there's colour in winter. As you pass through the gate into the sloping fields, you'll see far-reaching views across the valley. You might see red kites or kestrels soaring in the sky above. And as you pass into the farmer's field you might see wrens, finches or yellow hammers darting in and out of the hedgerow on your right. The way back to the car park is along the Coffin Path – an ancient road used for transporting the parishioners of Naphill on their final journey to the church at Hughenden. Don't forget to head down to the tea room afterwards for cake and hot chocolate.
Normal admission (free for National Trust members)
Not suitable for buggies or wheelchairs
Dogs welcome
Cafe
There are lots of bridges to trip-trap over on Stowe's short 1.2m Lakeside Walk. The first is the elegant arc of the white wooden bridge which was installed in 2011. The next is the Palladian bridge – one of only three in the country and the only one with no steps so that carriages can cross it. Not a regular occurrence these days, but you never know! You'll head on past the Temple of Friendship where buddies can renew their bond, then on to the Pebble Alcove where children love to run their fingers over the mosaic pattern.
Normal admission (free to members)
Wheelchair and buggy-friendly
Dogs on leads welcome
Cafe

This 2 mile walk is easily followed as it's waymarked by red arrows. You can ask at visitor reception where to start. You'll walk through woodland with bronze beech leaves still clinging on to branches, ancient gnarled oaks and cherry trees. Look out for veteran trees with broken branches and holes where birds, squirrels and dormice might be nesting. Children enjoy running up and down the steep sides of the lumps and bumps of saw pits or chalk extraction, and balance-walking on fallen logs.
You'll amble through rolling Chiltern hills with restful views and farmland with grazing animals, so please keep dogs on leads. Head back to Greys Court for a hot chocolate or lunch in the Cow Shed tea room.
Normal admission (free to National Trust members)
Not suitable for buggies or wheelchairs
Dogs welcome on leads

This 1.5m walk at Watlington Hill is on the Bucks/Ox border, just off the M40 at Stokenchurch. Watlington Hill is on the Chiltern escarpment and it's a great spot to see birds of prey like buzzards, kestrels and sparrowhawks hunting the grassland. The views over the Oxfordshire vale go on for miles and off the edge of the hill, silhouetted against the sky, you'll see the red kites and even ravens tumbling and sweeping on the thermals in extraordinary air displays.
Free entry, Pay and display car park (no charge to members)
Not suitable for buggies or wheelchairs
Dogs welcome