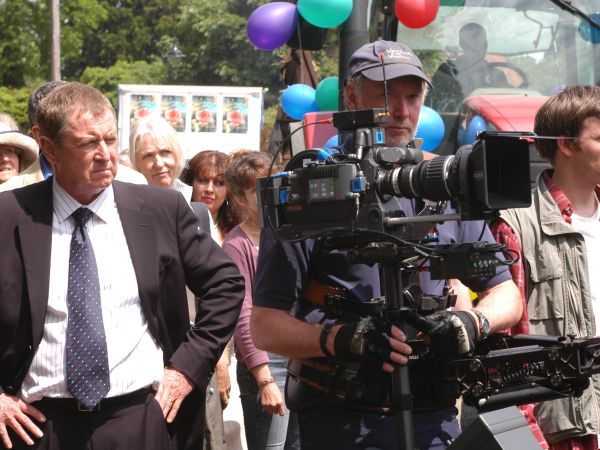 Step inside 'Midsomer County' to discover and explore the many Midsomer Murder filming locations that are in Buckinghamshire and The Chilterns.
Amersham
Six Midsomer Murder episodes have been filmed somewhere in Amersham town, including the main high street. The exterior of The Maltings has been used as Plummers Relish Factory for 'Sauce for the Goose' and Calders Biscuits in 'The Killings of Copenhagen.' Amersham's Antique Shop was also in the episode 'Sauce for the Goose.' Midsomer Murder's Causton town is set around places in Buckinghamshire and Oxfordshire, and Causton's Hospital in real life is, Amersham's very own hospital.
Beaconsfield
In 'Ghosts of Christmas Past' Barnaby and Scott inspect in a grave which is in the churchyard in Beaconsfield Church. This church can also been seen in 'St. Mary at Plea' and 'Four Funerals and A Wedding.' Baraby goes and buys some new trousers in a shop in Beaconsfield New Town in 'Blood Will Out.' A lot of other stores and cafes in Beaconsfield are used in several episodes including, 'Dead in the Water' and 'The Old Tea House.' The wonderful Beckonscot Model Village in Beaconsfield can be seen in the episode 'Small Mercies.'
The Lions at Bledlow
Buckinghamshire's pub 'The Lions at Bledlow' has been used several times in many Midsomer episodes. It was 'The Queens Arms' pub in 'Dead Man's 11,' 'The Feathers' in 'A Rare Bird' and 'The Dog & Partridge' in 'Kings Crystal.'
Marlow
Marlow has also been used as several locations for Midsomer Murders, including the Two Brewers pub in 'Sauce for the Goose.' A lot of Marlows pretty streets can be seen in different episodes and their library is Caustons Library in the Black Book. Danesfield House in Marlow has been seen in 'Judgement Day' and as the inside of the Lawnside Nursing Home in 'Blue Herrings.' You can download Marlow's self-guided Midsomer Tour to learn and explore more about the area.
Thame
Thame has been used in many episodes of Midsomer Murders, so much so that the town now has its very own tour. The Town Hall has been used as Causton Arts Centre in 'The Maid in Splendour' as well as Causton's Town Hall. The Spread Eagle Hotel on Cornmarket became The Morecroft Hotel in 'Midsomer Life.' Another hotel across the road is 'The Swan Hotel' which you can see in 'Vixen's Run.' The Black Horse Pub and Brasserie was a filiming location for 'Death in the Slow Lane.'