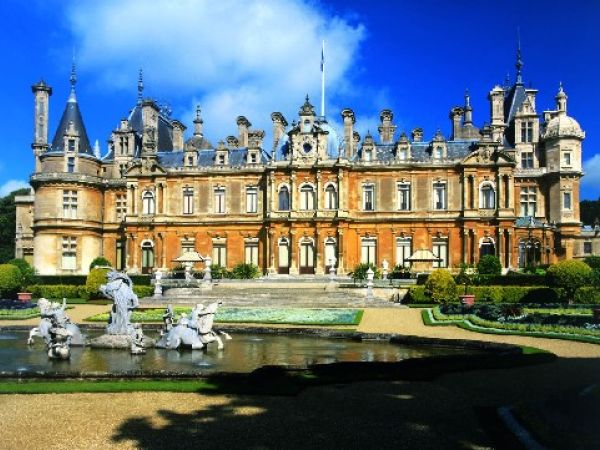 You may already know that 'Midsomer Murders' is filmed in Bucks but did you know that many other films and shows have been filmed here too? The latest 'Cinderella', 'The Vicar of Dibley', 'Killing Eve', 'James Bond', 'Chitty Chitty Bang Bang' and 'The Crown' to name but a few.
Midsomer Murders Tours
The quintessential English villages and towns of Bucks, such as Long Crendon, Turville and Marlow, have all offered gorgeous backdrops to Midsomer Murders for many years. In fact the popularity for visiting these locations has led to a number of Midsomer tours being made available, some guided and some self-guided.
Pinewood Studios
Based at Pinewood Studios, the James Bond franchise uses the gorgeous Bucks countryside as a location when it's not jetsetting round the globe. Did you know that Stoke Park played host to the epic golfing duel in 'Goldfinger' and was also featured in 'Bridget Jones' Diary'? Other blockbusters such as 'Star Wars' and the 'Marvel' series have also been filmed there and soon you'll hopefully be able to visit Pinewood too. A planning application for Screen Hub UK has been submitted which would include a new multimillion pound visitor attraction with film-inspired experiences, a hub for screen skills and training to further support the UK's production industry. Nearby Black Park has also featured in Bond movies as well as 'Harry Potter', 'Lara Croft Tomb Raider' and 'The Phantom of the Opera'.
Waddesdon Manor
Built in the style of a 16th century French chateau, Waddesdon Manor is a popular choice when such splendid surroundings are required. Indeed, Amazon Prime's version of 'Cinderella' starring Camilla Cabello used Waddesdon as the fairy tale castle, whilst Netflix's production of 'Rebecca', starring Lily James, used the dining room and breakfast room to look like an elegant French hotel suite. 'The Crown', 'Downton Abbey' and James Bond have also all been filmed there. Opulent interiors and stunning grounds lend themselves to film and tv production but are also a must-see for any Bucks visitor or resident.
Bletchley Park
Bletchley Park and its tremendous story have featured regularly in film and television over the past few years. BBC documentaries ('Bletchley Park: Code-Breaking's Forgotten Genius'), ITV dramas ('The Bletchley Circle'), World War Two dramas and the blockbuster film 'The Imitation Game' (staring Benedict Camberbatch as the legendary cryptanalyst Alan Turing) have all been filmed on location at Bletchley Park. Enjoy a full day out exploring atmospheric wartime codebreaking huts, exhibitions, the beautiful mansion, and spacious grounds, to discover the real-life stories of what happened here during WW2.
West Wycombe Park
The Palladian West Wycombe Park is an Italianate country house that has frequently been featured in screen adaptations of literary classics such as 'Cranford' and 'Little Dorrit', in the television series 'Downton Abbey' and more recently 'Dr Thorne'. The streets of the village outside the park have many different architectural styles from the 16th to the 18th century and oozes charm that many a film director cannot resist.
Chiltern Open Air Museum
COAM has over 30 reconstructed historic buildings, including an Iron Age roundhouse, 1940s prefab, blacksmith's forge, Victorian toll house, tin chapel, WW1 and WW2 Nissen huts, earthen cottage and working historic farm so is much in demand for filming. 'Mary Queen of Scots', 'Downton Abbey', 'Call the Midwife', 'Grantchester',' Horrible Histories' and many more have been filmed there, making use of the eclectic mix of architecture and the pleasant grounds.
Stowe
The opulent Greek-inspired buildings of Stowe House and the extensive grounds littered with temples, bridges and follies have attracted many productions including 'X-Men First Class', 'The Crown', 'Stardust' and 'Indiana Jones'. The house is used as a school and gradually being restored where its old age is starting to show. Most recently, the Netflix hit series, 'Bridgerton', a romantic drama set in the Regency period, was filmed at Stowe Park, as well as Dorney Court and RAF Halton.