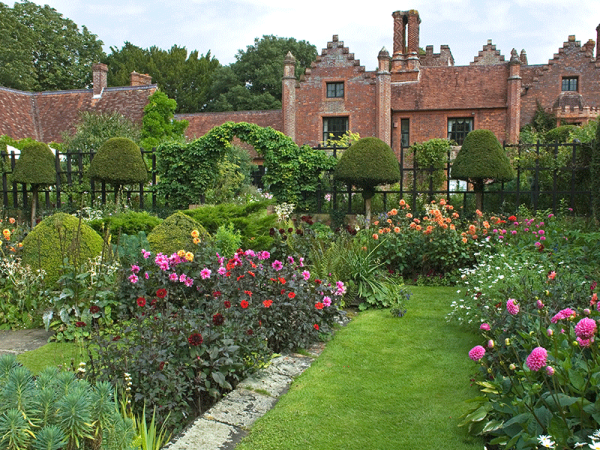 Within Buckinghamshire lies the Chiltern Hills, an Area of Outstanding Natural Beauty, as well as gentle rolling countryside, miles of woodland trails and footpaths, meandering routes of the Great Ouse and River Thames and breathtaking views from the surrounding hills to enjoy.
Not only this, but Buckinghamshire is blessed with some of the finest gardens in England, ranging from internationally-renowned landscape gardens with spectacular vistas to enchanting country cottages.
---
Day 1
Morning: Start your day at the magnificent Waddesdon Manor, built by Baron Ferdinand de Rothschild to exhibit his collections of art treasures. The Victorian garden is considered one of the finest in Britain. Allow 4 hours. Coach parking available. A range of garden, wine tasting, cellar and customised tours available. Group admissions available. Tel: 01296 653226
Lunch: Enjoy one of the two restaurants at Waddesdon Manor.
Afternoon: Spend your afternoon at the 18th Century Landscape Gardens at Stowe. Internationally renowned, these beautiful gardens have over 40 temples against a backdrop of valleys and lakes. Allow 2 hours. Coach parking available. Group admission price available. Guided tours are available for an additional charge. Tel: 01280 822850
Evening: Enjoy dinner at one of the many independent restaurants in Buckingham. Contact the Tourist Information Centre for their recommendations. Tel: 01280 823020
Waddesdon Manor to Stowe: 20 miles / 40 – 45 mins
---
Day 2
Morning: Start the day at Chenies Manor House, winner of the 2009 Christies Garden of the Year Award, and discover five acres of gardens, from tulips to dahlias. Allow 2 hours. Coach parking available. Group discount and special tours available. Tel: 01494 762888
Lunch and afternoon: Arrive at Cliveden for a delicious home-cooked lunch before exploring the stunning colourful gardens, woodlands and Thames riverbank. Allow 4 hours. Coach parking available. Indoor guided tours on Thursday afternoons. Tel: 01628 605069
Evening: Take in a show at Wycombe Swan theatre in High Wycombe. Tel: 01494 512000
Chenies Manor House to Cliveden: average 20 miles / 30 – 40 mins

---
Day 3
Morning: Enjoy the Boarstall Duck Decoy and Nature Reserve to see rare demonstrations of how ducks were decoyed in the 18th Century. Don't miss the historic Boarstall Tower whilst you are there, a medieval gatehouse still baring the scars of the Civil War. In total allow 2 ½ hours. Limited space for groups so please check in advance. Tel: 01296 730349
Lunch: Stop at The Chandos Arms at Oakley, a traditional village pub offering quality home cooked food and which was a finalist in the 2011 Aylesbury Vale Village Pub of the Year competition. Tel: 01844 238296
Afternoon: Arrive at the Grebe Canal Cruises and sit back, relax and enjoy timeless tranquillity as you cruise down the Grand Union Canal. Allow 3 hours. Tel: 01296 661920
Evening: Enjoy an evening meal at Pendley Manor in Tring, a Grade II listed house set in 35 acres of landscaped gardens and parkland. Tel: 01442 891891
Don't forget that the Chiltern Hills offer a fabulous selection of walks and rides. Sample the Chilterns Cycleway, a 170 mile circular route where you can do as much or as little as you like, with plenty of watering holes along the way. Walking and outdoor experiences for groups are available with WalkFree Breakfree.
Boarstall Duck Decoy to Tower: 1 min
Boarstall to Oakley: 2 miles / 6 mins
Oakley to Grebe Canal Cruises: 27 miles / 1 hour