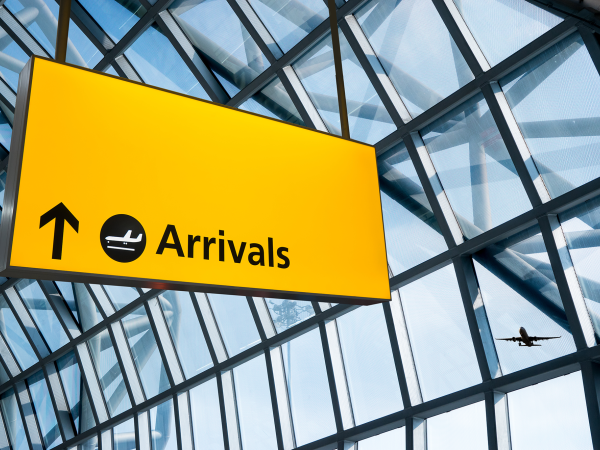 If you are visiting Buckinghamshire from overseas or a considerable distance within the UK, you should arrive either at one of the London airports or Birmingham Airport in the Midlands.
In all there are five airports within little more than 1.5 hours drive of Buckinghamshire, all of which are major international airports and among the seven busiest airports in the UK. These are Heathrow (45 mins drive), Luton (45 mins), Gatwick (85 mins), Stansted (85 mins) and Birmingham (95 mins).
Getting to Buckinghamshire from the airport
Once you've arrived at your airport of choice, you'll want the quickest and easiest way to get to Buckinghamshire by road or rail.
From all airports
Coach: One of the simplest routes into Buckinghamshire is via coach, with National Express coaches stopping at most major towns throughout the county from the airports listed. National Express Tel: 0871 781 8181.
By rail: If arriving by train, you will first head into London, details for which are below. Chiltern Railways operates services from London Marylebone, which is the best station from which to access Buckinghamshire locations like Aylesbury, High Wycombe, Princes Risborough and Gerrards Cross. Chiltern Railways Tel: 08456 005 165.
Trains also run from Euston Station to Milton Keynes on the London Midland service. Tel: 0344 811 0133.
From Heathrow
Local buses: There are six local bus routes between Heathrow Airport and locations in Buckinghamshire; the A40/740, 75, 78, 210, 592, and Greenline 724 services. You can find timetables and routes for these services on the Buckinghamshire County Council website.
Hire car: There are plenty of operators you can find on Heathrow's website.
By rail: Find your quickest route via Heathrow Express. This gets you into London in 15 minutes, from where you can continue on into Buckinghamshire.
From Luton
Local buses: The 737 bus service from Luton Airport takes in High Wycombe and Stokenchurch.
Hire car: Pick your operator and pre-book for the cheapest journey.
By rail: With trains leaving on average every 10 minutes during peak times and a 40 minute journey into London from Luton Airport railway station, train may be your best bet for ultimately making your way to Buckinghamshire.
From Gatwick
Local buses: The 210 service stops at High Wycombe from Gatwick Airport.
EasyBus: With almost 300 departures a day between London and Gatwick Airport.
Hire car: Book with one of the many operators servicing Gatwick Airport and get the best directions to and from the airport on the Gatwick website.
By rail: Non-stop trains connect Gatwick and London Victoria via the Gatwick Express which takes 30 minutes.
From Stansted
Local buses: The 737 service stops at High Wycombe and Stokenchurch.
Hire car: Get the best deal on hiring a car from Stansted Airport.
By rail: The Stansted Airport Train Station is just a two minute walk from airport arrivals and is easily accessible. Stansted Express trains depart every 15 minutes and reach London Liverpool Street station in just over 45 minutes.
From Birmingham
Local buses: The 210 service goes from Birmingham Airport to High Wycombe.
Hire car: Hire car desks are within airport arrivals and have several operators on hand.
By rail: Trains leave frequently for London from Birmingham International Station, which is connected to the airport by the free 'Air-Rail Link' monorail system.