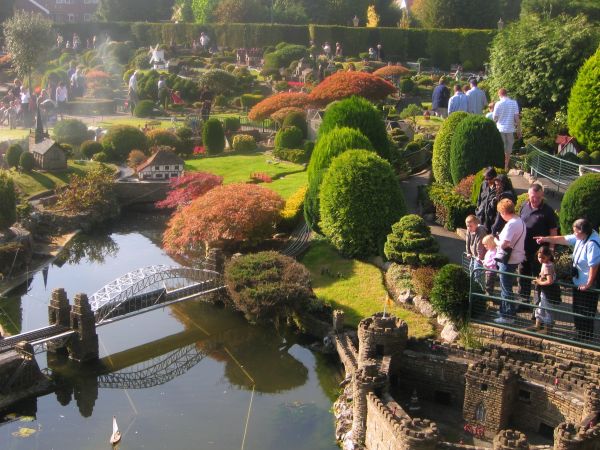 Home to the world famous Pinewood Film Studios, Buckinghamshire has been used as the backdrop for many well-known TV series and films from Bridget Jones to Bond, Harry Potter to Inspector Morse.
In addition, West Wycombe Park was used for the Importance of Being Earnest, Stoke Park for Bridget Jones's Diary, the Crown Hotel in Amersham in Four Weddings and a Funeral, the village of Turville for the setting of The Vicar of Dibley and Chitty Chitty Bang Bang and Cliveden in the latest Sherlock Holmes feature. The county has also been the inspiration of many well-known and inspiring authors and poets. Thomas Gray wrote his masterpiece Elegy Written in A Country Churchyard in Stoke Poges and Rupert Brooke also took inspiration from the Chilterns.
---
Day 1
Morning: Enter the miniature world of Bekonscot Model Village & Railway, the basis of Enid Blyton's book Enchanted Village. Allow 2 ½ hours. Free coach parking. Group rates available. Tel: 01494 672919
Lunch: Stop off at the attractive Thames-side town of Marlow, which has more than its fair share of literary connections. Mary Shelley completed Frankenstein whilst living in the town with her husband, poet Percy Bysshe Shelley. Fellow poet T.S. Eliot was also a resident. Lunch can be spent at one of Marlow's lovely cafés. Ask the Marlow Tourist Information Centre staff for their recommendations. Allow 2 hours. Marlow TIC: 01628 483597
Afternoon: The Horses Trust is the world's oldest horse charity, which was founded in response to Anna Sewell's classic novel Black Beauty. Set in the idyllic Chiltern Hills, it provides sanctuary to around 100 retired horses. Allow 1 hour. £5 per car. Open Thurs/Fri/Sat/Sun 2pm – 4pmTel: 01494 488464
Evening: Take your group for dinner at one of the award-winning restaurants at the Macdonald Compleat Angler Hotel, which is celebrated in Jerome K. Jerome's most famous work Three Men in a Boat. Relax to the sound of the cascading waters of the Thames running over the town's weir. Tel: 0844 879 9128
Bekonscot Model Village and Railway to Marlow: 8 miles / 25 mins
Marlow to Horses Trust: 11 miles / 25 mins
---
Day 2
Morning: Take a trip to Olney to visit the Cowper and Newton Museum that tells the life of the 18th Century poet and abolitionist William Cowper and his friendship with ex-slave trader John Newton, author of the hymn Amazing Grace. Allow 1 ½ - 3 hours depending on size of group. Tours limited to 12 people per guide. Tel: 01234 711516
Lunch: Take in one of the numerous independent cafés in beautiful Olney.
Afternoon: Arrive in Buckingham at the Old Gaol Museum which houses the Lark Rise to Candleford display. This trilogy was written by Flora Thompson, who lived for some of her life in the county, and has recently been adapted by the BBC. Groups available by appointment. Tel: 01280 823020
Finish your day by wandering around the Buckingham Chantry Chapel and the many cafés and independent shops. In total allow 2- 3 hours. Chantry Chapel Tel: 01296 730349
Evening: Watch intimate but professional theatre at the Limelight Theatre within the Queens Park Arts Centre, Aylesbury. Tel: 01296 424332
Cowper and Newton Museum to Buckingham Old Gaol: 23 miles / 40 - 45 mins
---
Day 3
Roald Dahl is one of Buckinghamshire's most famous authors and is celebrated in not one but two museums, as well as having an annual festival named in his honour.
Morning: Spend the morning at Aylesbury's Buckinghamshire County Museum and Roald Dahl Children's Gallery. Allow 2 hours. Tel: 01296 331441.
Lunch: Journey to the attractive Chiltern village of Great Missenden, home to Dahl for over 30 years. Have lunch at the Nags Head Inn. Tel: 01494 862200.
Afternoon: Visit the fantabulous award-winning Roald Dahl Museum and Story Centre. Allow 1 ½ hours. Tel: 01494 892192.
Aylesbury to Nags Head Inn: 12 miles / 25 mins
Nags Head Inn to the Roald Dahl Museum and Story Centre: 1 mile / couple of mins
Don't forget that Midsomer Murders is one of the county's greatest successes, catching victims napping in sleepy villages whose Old English beauty looks too good to be true. Guided tours and walks take you to some of the best locations around the county.