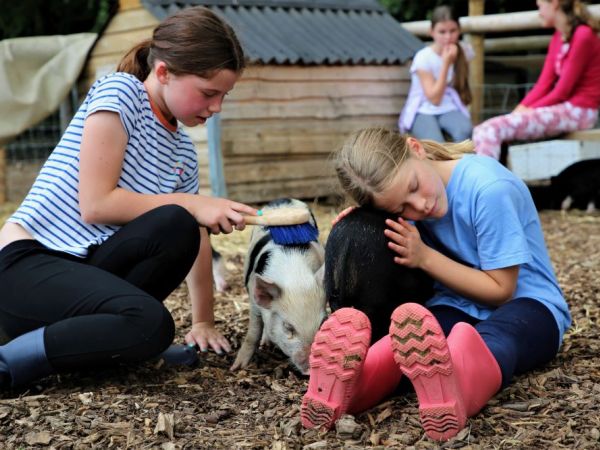 There's plenty to keep them entertained this February half term in Bucks with our local attractions pulling out all the stops to make it a fun special week.
As well as their 5 newly appointed galleries and the Roald Dahl Gallery, Discover Bucks Museum is hosting a special exhibition on 'Your Amazing Brain'. From emotions to our senses, you will find out how your brain interprets what it sees, hears, smells, and feels. This family-friendly exhibition will take you on a journey inside your brain, to find out just what makes you, you. With over 15 interactive puzzles and 'mind-bending illusions' they will show you how your brain can play tricks on you. Get ready for some 'WOW' moments that might leave you questioning what you thought you knew.
An unforgettable 2 hours Piggy Pet & Play session where kids can play, groom and learn all about the cute minature pigs at this farm in Amersham. Loads of fun photo opportunities await and some adorable piggy merchandise is available to purchase as a souvenir of these unique experience.
It's all things 'Matilda' at the Roald Dahl Museum this half term. Make a mini Miss Trunchbull out of clay or use some jumbly junk to create your own Matilda-style tricks. Take a peek behind the scenes and see some tricksy treasures from the archive or join in with a Matilda drama workshop and attempt to tell the story in one minute! Visit the very library Roald Dahl imagined Matilda visiting on our special guided walks or just enjoy the Crunchem Hall primary school games in the courtyard. With Matilda storytelling throughout the week, and much more besides, this is the perfect destination for any Roald Dahl fans.
This half term, Hogshaw Farm & Wildlife Park will play host to a special team of animal enthusiasts who want to share their love of animals with the world. Animal Adventures Week will see puppets, live music and playful characters at the farm, as well as the usual animal encounters, indoor & outdoor play areas, cafe and loads of open space to run around.
Join in a fun, family-friendly Amazing People, Amazing Machines tour to find out about the amazing people and machines that helped break the Enigma cipher at Bletchley Park during WW2.Enjoy one of Bletchley Park's family activity drop-in sessions, all about Enigma machines. Find out how different parts of the machine worked to create a strong cipher and have a go at breaking Enigma communications yourself. Set up one of their virtual Enigma machines and use it to create your own secret messages. Fun and educational, this large site will keep them entertained for hours.
Not only do they offer train rides behind a painstakingly restored steam locomotive but they also have a fabulous Railway Museum full of engines, carriages, wagons and other railway artefacts. Most popular with kids is their Miniature Railway offering sit-on rides, plus on Sunday 19th February, Paddington is coming to visit!
We are lucky to have two Go Ape centres in Bucks - one in Wendover Woods and one in Black Park. These tree top adventures are great fun with easier options for younger kids and a popular way to spend a couple of hours amongst the tree canopy enjoying challenges, nature and fresh air. If you'd rather stick to the forest floor, you can also hire segways and bikes at Black Park.