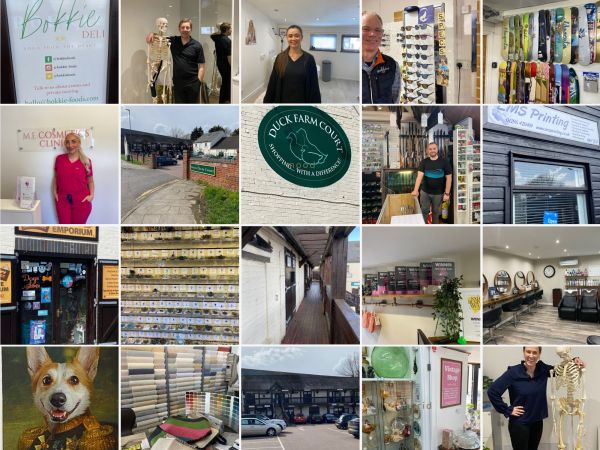 Near to Morrisons, you may have driven passed Duck Farm Court thinking it was just offices but it is actually an Aladdin's cave of independent businesses including a South African deli, hairdressers, dog food retailer, antiques, therapists and much more. It really is worth a visit to this friendly community, some offering services unavailable elsewhere in Aylesbury. The building was once home to the famous Aylesbury ducks and its rustic charm only adds to this unique shopping experience.
Bokkie Foods is an award-winning South African fusion street food deli and catering company. Set up by Claire Alderton, using inspiration from her South African heritage, and local produce, Bokkie offers something new and unique to Aylesbury and the many events that they cater for. The food is all homemade with no fryer used, they offer curries, burgers, peri-peri dishes, mac 'n' cheese & more, all available to order from their own app. With the large car park at Duck Farm Court, it's easy to swing by and collect directly, although there are delivery services available.
Whilst you're collecting your delicious South African feast, you can also pick up a balloon display, crystals, incense, oils and more from The Shop of Magical Requirements, located below Bokkie. Maria has 26 years experience as a balloon artist and will create a lovely display of balloons for a celebration, as well as decorating at corporate events. Or she can provide you with crystals direct from the mines, all sorts of herbs, essential oils, candles and more, including all you need for witchcraft! Top Specs dispense and manufacture glasses. Take your favourite frames in and they can fit your prescription lenses or choose frames from them. If you're into hunting, shooting or fishing, Jakeman Sports has everything you could possibly need. Established in 1949, this family-run business has been at Duck Farm Court for 8 years. If you have a dog, head to McGrumpy & Snuffles, a canine-specific pet shop run by Katie Martin, an expert in natural pet health. They have a wide selection of foods, including raw dog food, toys, natural treats, beds and accessories, with knowledgeable staff on hand to advise. They also stock a small range of items for cats. The Vintage Shop is a great place to browse and despite its relatively small size, is an Aladdin's cave of furniture, antiques, collectibles and more. With 20 years experience in the business, the owners can also source items for you. They are big on recycling and upcycling, buying a lot from auctions but also from the public, so if you have a piece to sell get in touch. Other retail outlets include Charles Huntington Flooring and Aylesbury Skateboards, such is the diverse range on offer at Duck Farm Court.
In addition to retail, Duck Farm Court is home to several therapy practitioners. Gabrielle Maitland-Jones runs Back In Motion, offering chiropractic treatment for all ages, including dry needling. Next door is Simms Chiropractic where Colin Rance and Julia Simms offer a different style of chiropractic treatement. Julia is also looking to incorporate light therapy into their offering which is proven to help heal all sorts of aches and pains. The Blue Heart Clinic offers physiotherarpy and massage with Cherry Feet next door, offering chiropody, so that's your body covered from your head to your toes. Talking of heads, Safy B's award-winning colourwork salon is also in Duck Farm Court where you can get your hair coloured, restyled and/or cut by Saffron, a regular at London Fashion Week! Maisie at ME Cosmetics, an aesthetics clinic, and Gemma at Gemini Beauty are also on hand at their own units in Duck Farm Court to attend to all your beauty needs.
With a printing business, LMS Printing, with 14 years experience in large format printing; a 3D scanning unit, Window on the Womb, for those precious first images; a fitness pole dancing studio called Pole Attack; and a dancewear shop called Blackfeather Dancewear, there really is something for everyone at Duck Farm Court! With plenty of free parking, why not make a visit soon?