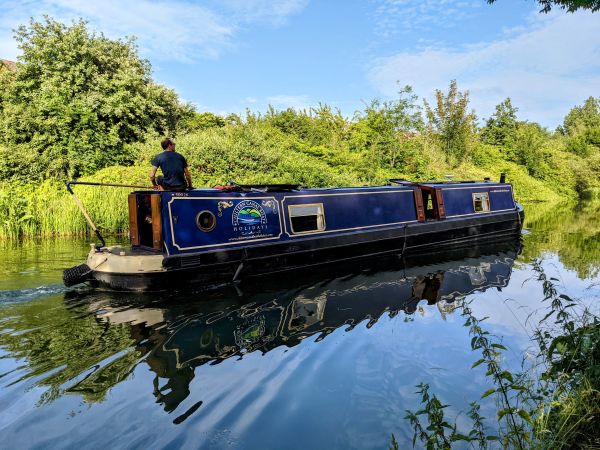 When Chiltern Canal Boat Holidays was founded in April 2021, their first season proved to be a great launch vehicle.
There was a huge amount of pent-up demand from customers in the market for a staycation after months of lockdown. Most customers are brand new to this type of holiday and benefit from a training session from the team before setting out on the canals for a peaceful few days' boating.
As more opportunities to travel abroad opened up in 2022, Corinne and Gareth Newman were aware that they needed a strong marketing strategy to generate more brand awareness. Thinking ahead, they also wanted to investigate how to be as sustainable as possible in their business.
Corinne attended the Buckinghamshire Tourism summit in March 2022 to get insight into what sort of support might be available and signed up for the Visit Buckinghamshire Boost programme.
"The digital skills training as part of the programme helped us completely re-think our social strategy and as a result, we have increased brand awareness, traffic to our website and grown our Instagram community," said Corinne.
They successfully applied for a £250 voucher to improve their website and create printed fliers to promote their holidays in other local tourism venues. The web upgrades have led to a smoother booking experience for users.
The business also invested in pay-per-click (PPC) Google ads, expanded their 'Google My Business' profile and targeted geographies outside of the Chilterns, leading to bookings from Canada and Australia.
"Being able to use the voucher to invest in our customer user experience on the website is something that we wouldn't have been able to afford otherwise, and this will have a positive impact on our bookings," said Corinne.
Corinne's Business Adviser was delighted, saying: "It is wonderful to hear that Chiltern Canal Boat Holidays have had their first bookings from abroad following the digital skills training and our 'Taking England to the World' seminar. We love to hear about more people discovering the Chilterns and its beautiful surroundings."
The 'Green Credentials' portion of Visit Buckinghamshire: Boost was next up for Corinne and Gareth, helping them understand their carbon footprint and take action to reduce their impact on the environment. They know that sustainable, car free holidays are something that people are looking for more and more.
Looking to the future, Corinne knows that she can ring the Business Support Team for advice and support to help with her business and looks forward to establishing the business further as a great asset for the Buckinghamshire tourism community.
Delivered in partnership by Visit Buckinghamshire, Buckinghamshire Business First and Buckinghamshire Council, the Visit Buckinghamshire: Boost project was funded by the UK Government through the UK Community Renewal Fund.
Get this kind of support for your business
Though the Visit Buckinghamshire: Boost programme itself has now come to an end, businesses have plenty of other support programmes and opportunities available to them.
Discover a world of support via our Business Support pages, including the Growth Advice Service, Growth Grants, and our Workforce Skills Team.
To speak to a member of our Business Support Team, email BusinessSupport@bbf.uk.com or call 01494 927130.