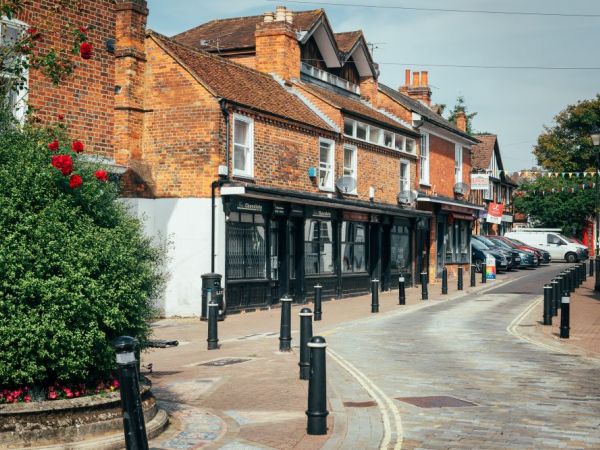 Burnham is a large and thriving village on the outskirt of Buckinghamshire and near to Windsor, Maidenhead and the Slough Trading Estate.
About
Burnham has much to offer, with its classic Village High Street, to the five main local amenity spaces, including four parks/playgrounds and George Pitcher Memorial Ground which has a nature park, football pitches, and a trim trail. Additionally, Burnham Beeches, a picturesque 374.6 hectare woodland is a must-visit for all! The official home of the Chancellor of the Exchequer, Dorneywood is also within the Parish of Burnham. Until the late 19th century, Burnham consisted of the village High Street and outlying farms and cottages. From the 1920s, and with the building of the neighbouring, the size and population of the village has grown from about 4,000 to over 12,000 today. To the northern edge of the village Burnham blends seamlessly with local farms and the Burnham Beeches woodlands offering many great walks, cycle options and bridleways.
History
The village has existed from at least late Saxon times, being first recorded in the Domesday Book of 1086. Lying close to ancient river and road routes it was once a very important village on The Great West Road (running London to Bath), and as a result a Royal charter to hold a market and annual fair was granted in 1271. Burnham Beeches in the north of the parish was bought by the Corporation of London in 1880. The 540 acres of woodland open to the public contains the Druid's Oak, almost certainly greater than 800 years old, and the Late Bronze Age hillfort of Seven Ways Plain.
Burnham is home to Burnham Abbey, founded by Richard, 1st Earl of Cornwall in 1265, and also the Church of St Peter in the village centre which was probably started during the reign of Stephen (1134-54) and its earliest known incumbent was presented to Burnham in 1202 by King John.
Getting here
Burnham can easily be reached via road (M4, A4 and M40), or train (to Burnham, Bucks British Rail station). For anyone arriving by air, Burnham is a short taxi ride away from Heathrow Airport. Burnham Village has a short stay carpark (Jennery Lane, Burnham, SL1 8BX) and a long stay car park (Summers Road, Burnham, SL1 7EP). The Summers Road car park includes coach parking facilities. Parking is also available at Neville Court Car Park (Dropmoor Road, Burnham, SL1 8BB). All three car parks have reserved disabled parking bays and are operated by South Bucks District Council.
Markets, Festivals & Events
Every Wednesday Burnham high street hosts a weekly market, taking place between the morning until mid-afternoon.
Burnham hosts a number of community events throughout the year, such as the Burnham Donkey Derby in May, which attracts over 2,500 visitors due to its wide range of activities, including; Donkey racing and rides, stalls, food offerings, arena events, funfair and entertainment. May 2020 marks the 29th anniversary of this free event, which has previously raised more than £300,000 for charities such as Marie Curie Cancer Care, the Thames Valley Hospice and many other local organisations.
Burnham also holds its own free festival. Burnham Festival takes place at Burnham Park and is a celebration of music and food & drink, bringing together the local community along with local musicians and performers of all ages and genres since 2015.

Every summer Burnham holds the Burnham Village Fete, attracting people of all ages with a fun fair, stalls, dog show, BBQ, beer and prosecco tent, prize draw, and performances from local talent.
Other events in Burnham include; Concerts, community cinema evenings, The Great Burnham Sack Race (annual community clean up) and Burnham Rocks which celebrates the talent of local young performers through an annual competition event.
Claim To Fame
Burnham was the home of William Wyndham Grenville, who, whilst Prime Minister, championed the abolition of slavery and introduced the 1807 Slave Trade Act, who built Dropmore House in 1790's. Other residents of note have included Mike Ashley (billionaire businessman), Jimmy Carr (comedian who attended Burnham Grammar School), Susan Cooper (author), Armando Annucci (writer), Ulrika Jonsson (TV presenter), Will Mellor (Actor), Tracey Ullman (comedian) and Hilary Evans (awarded BEM for services to the Burnham community)
Filming Locations
Within close proximity of Pinewood and Shepperton and Bray Studios, Burnham Beeches with its outstanding natural beauty has become a desirable filming location. Some films and TV productions shot at Burnham Beeches include: Robin Hood Prince of Thieves, The Crying Game, First Knight, Goldfinger, The Princess Bride, the 1952 Disney film The Story of Robin Hood and His Merrie Men, Harry Potter and the Order of the Phoenix, Harry Potter and the Deathly Hallows – Part 1 and Horrible Histories: The Movie. Filming in Burnham Beeches is tightly controlled in recognition of the Beeches international importance for wildlife.
Accommodation
Burnham has a wider range of accommodations in or near to the village. For those seeking the ultimate in luxury there is the exclusive 5* Cliveden House Hotel (home to the Profumo affair and where Megan Markle spent the night before her wedding) or the 4* Burnham Beeches, Govefield House and Pines Hotels. There are also numerous guest houses in nearby Taplow, Maidenhead or Slough
Did you know?
The name of the village is derived from the old English words for "homestead on a stream".