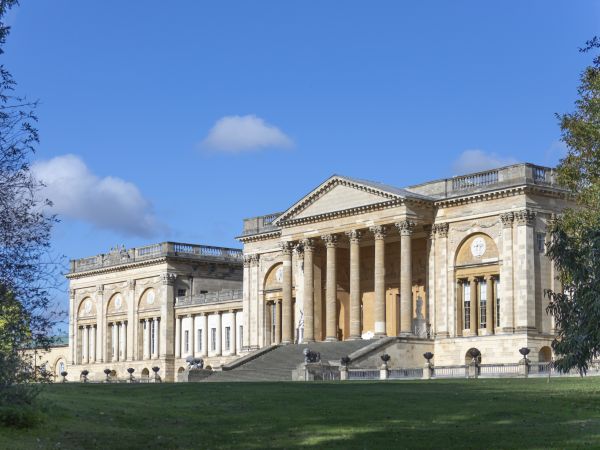 We are blessed with an abundance of interesting, historic and simply stunning places to visit in Buckinghamshire but with the lockdown firmly in place, our resourceful businesses have thought of ways for us to enjoy them from the comfort of our sofas. A virtual tour of an historic building or new exhibition, a film about the attraction, web cams of animals and audio guides galore guarantee to keep us entertained and culturally inspired at a time when we need it most. All you need is a computer or phone and Buckinghamshire is at your fingertips.
Waddesdon Manor and Estate, the jewel in the crown of the National Trust, has a wonderful selection of virtual tours and online resources so you can explore the beautiful house, exhibitions and gardens in all their splendour. You can even explore some interiors not normally open to the public. This article (link to one already on the website) will give you all the details. Did you know that the chefs at Waddesdon are now providing school lunches to local children (lucky kids) and that they donated a whopping 900 chocolate eggs destined for their Easter trails to the Aylesbury Food Bank?
Beautiful Stowe House is being gradually renovated and you can watch videos of the amazing work by the Stowe Preservation Trust on their social media. Next up is the restoration of the Western Suite which includes The State Drawing Room, The State Dining Room and The Small Dining Room. The 3 year project will see the floors replaced, the historic ceilings restored and the original colour schemes reintroduced.
Beckonscot in Beaconsfield, the world's first model village, has created a virtual tour round its enchanting miniature world. Get close up views of this charming world and marvel at the detail and craftsmanship.
The Chinnor and Princes Risborough Railway, whose steam and diesel train usually makes a 7 mile round trip for visitors to enjoy, is part of the old Great Western branch line from Princes Risborough to Chinnor. Experience the trip through their online video and take in those gorgeous Chiltern views. They have plenty to share on their social media platforms too.
Odds Farm Park and Green Dragon Eco Farm have many animals to look after and of course Spring is the time for new arrivals. Keep up to date with what's happening and feast your eyes on the gorgeous newborns on their social channels. For more animal magic, over the border Whipsnade Zoo is also showcasing its inhabitants in online videos. Who doesn't want to see a baby elephant taking a bath, a baby rhino playing ball and a penguin choir?
For less 'active' animals, Tring Natural History Museum houses an enormous collection of stuffed specimens from all over the world, collected by Walter Rothschild in the 19th century. You can discover this fascinating museum online with film, craft tutorials and more.
Amersham Museum has plenty of interesting online content for you to enjoy as it tells the story of Amersham's people and the surrounding villages over the generations. You can listen to stories from the 1930s, get a sense of life in a Tudor home in 1580 and delve into their Metro Land exhibition featuring images and the voices of local people.
The Chiltern Open Air Museum has a fascinating collection of over 30 reconstructed historic buildings from the Chilterns including an Iron Age roundhouse, 1940s prefab, blacksmith's forge, Victorian toll house, tin chapel, wartime Nissen huts, an earthen cottage and an historic farm which is still worked today. Usually a great educational day out for all the family, the museum has produced 17 free downloadable resources to bring the learning home. They consist of a range of activities and research projects which include how to make an Anglo Saxon broach, how to design wall paper, how to find the melting point of chocolate and how to learn the Runic Futhork Alphabet and use it to write secret messages.
There are more learning resources available from the National Paralympic Heritage Centre, acknowledged by many as the birthplace of the Paralympics. A twenty minute virtual tour of the Heritage Centre gives you the history of the Paralympic Movement, the evolution of the wheelchair and ceremonies of the games. Delve into the story of Dr Guttmann who used sport as rehabilitation at the spinal injuries unit from 1943 and the competitions which would lead to the Paralympic Games. Additional online family fun activities, like how to make a paper crane, are available to download too.
Bletchley Park, home to the Enigma Codebreakers, is preparing to celebrate the 75th VE Day. With the Bank Holiday moved to Friday 8th May for this reason, they are hoping that people will join in and celebrate at home. Head to their website for a celebration pack plus information on how you can make bunting to festoon your house and street on the day and revel in some of that uplifting wartime spirit.