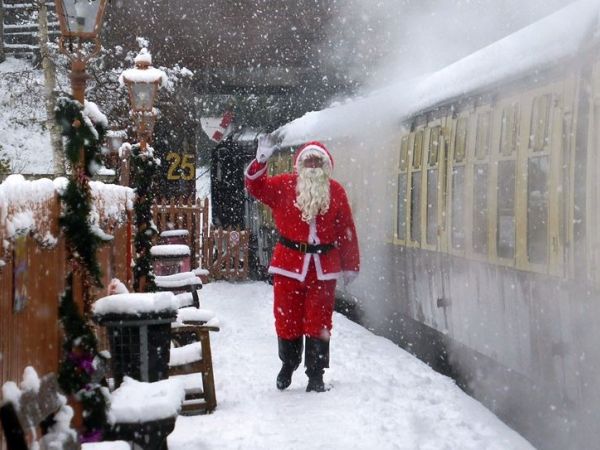 A pleasure for parents and kids alike, a visit to Father Christmas is one childhood tradition that your little ones will never forget. So where in Bucks will he be?
This is a fabulous hour and a half experience starting at Princes Risborough station where you'll be greeted by elves as you board a steam train to Santa's workshop and grotto at his North Pole Station. Refreshments will be available and you can chat to Santa and get your first Christmas present from the big man himself. All the carriages have been specially named after Santa's reindeers and parents can also pop to the station shop for a sneeky bit of Christmas shopping. On selected days from Sat 26th November to Thursday 22nd December.
Visit the unique Santa's Vintage Grotto at the home of the WW2 Codebreakers with the mansion decorated in 1940s style. Every child can spend time with Santa and receive a gift, plus there's festive elf trail around the site and you can enjoy festive treats in the coffee shops. 26th November to 23rd December.
'Farmer Christmas' returns to Hogshaw Farm & Wildlife Centre where you can walk through a winter wonderland to meet Santa on his big red tractor, encountering reindeer and elves along the way. Enjoy festive crafts, decorate gingerbread men and make reindeer food, as well as all the usual fun of the farm. 26th November to 24th December.
See Father Christmas in a 'Grotto with a Difference' - on a vintage steam train! Chug along the 1/3 mile length of track whilst you wait for Father Christmas, who will be making his way along the train visiting all the children and offering gifts. Once your train arrives back at Platform 4, make your way to the Pantomime seating at the far end of the Visitor Centre, sit back and enjoy a performance of Cinderella. 26th November to 18th December.
Enter a sparkling winter woodland and head to Santa's Grotto to meet the big man himself and receive a gift from the Elves Toyshop. Make a cuddly creation in the elves workshop, create fabulous Christmas crafts with Mother Christmas, make reindeer food and enjoy a performance from the Acapella Penguins! 3rd to 24th December.