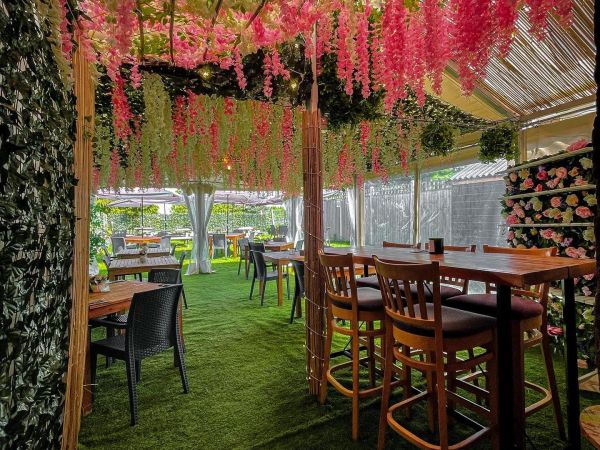 You probably consider the Chilterns a place to walk amongst gorgeous scenery and have a pub lunch. But there are also great places to have cocktails, enjoy dinner and hang out with your friends.
A rooftop bar and restaurant in Princes Risborough, this is the sister to The Manor in Aylesbury. Both establishments are renowned for their cocktails and fine dining and are hot on good service so you can expect a great night out. Cocktail masterclasses are also on offer and the venue can even be hired for private parties. Located right in the middle of the high street, The Manor Coach House consists of a cocktail lounge, restaurant and roof terrace on three floors with plush velvet furniture, hanging flora and its distinctive star lighting. The perfect spot for a glamorous night out, you might want to check out their Tipsy Bottomless Tapas!
Nestled in the village of Radnage is this friendly bar and restaurant which is big on cocktails, classics and original ones made by their bar staff using the freshest of ingredients. It's big on events too - check out their Halloween Mask Party with DJs - and they serve a mix of pub classics and tapas, using fresh local seasonal produce. They even have a secret garden and cocktail garden, perfect to hire for events.
This boutique inn and restaurant (close to Radnage) features an open kitchen where the chefs cook simply but skilfully over a bespoke wood-fired grill. They change the menu daily to reflect the seasons, often using ingredients from their own kitchen garden - they even forage herbs, flowers and spices to make infusions with spirits. A intimate fine dining experience, this is a great place to go for a special occasion and if you want to make a night of it, you can stay in one of their 5 comfortable bedrooms with views over the gardens and fields and awake to a delicious breakfast.
Also in Princes Risborough, this friendly pub is conveniently located between the train station and town so a good spot to head to after work.It has a great selection of over 30 gins, 4 real ales, 2 real ciders, craft beer and a great mix of non-alcholic drinks too. There's a cute eccentric garden with garden toys (for adults as well as kids) and The Lounge, a comfy outdoor seating area, plus they run regular street food events.
Dukes is a lovely wine bar and wine merchants in the heart of Princes Risborough with rustic beams and exposed brickwork. Their extensive list of fine wines from around the world, make it the perfect local destination for wine lovers. Their tapas-style cheese and meat evening plates, pizzas and homemade lunches also hit the spot for a bite to eat, enjoyed of course with a well-chosen glass of wine. Pop into Dukes Wine Merchants next door and you can buy a bottle or more to quaff at home too!